For various urgent needs you may need to check your ভোটার আইডি কার্ড চেক or NID Card Check. Learn how to NID check BD online.
Having become a new voter, now you need to have your NID card check. Or, any special requirement requiring voter ID card verification. How to do? In this blog I will show some tricks through which you can check Bangladesh Election Commission Voter ID Card.
Generally, due to the security of people's information, no one else has the opportunity to know his information with the NID number in the case of checking the Bangladesh Election Commission voter ID card. However, if you have your own National Identity Card, you can log in through face verification to view all your information from the NID server, correct your NID and download your NID Card.
Let's know first, how to check if your NID is ready after registering a new voter.
NID Card Check
To check NID card of new voters, send NID space Form Number space DD-MM-YYYY to 105 from message option on mobile. The return message will inform you when your NID is ready and the NID number will be sent.
New voters who have registered but have not yet received a National Identity Card number. You can now know your Smart National Identity Card number through SMS and use it for various purposes.
Besides, you can directly find your National Identity Card number and download your National Identity Card by using your voter slip number or form number online. See below the rules to check voter ID card online.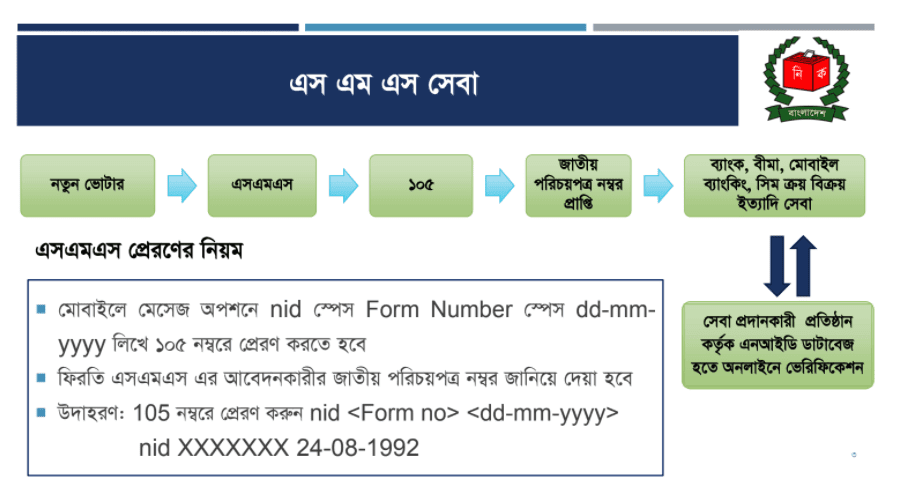 NID Number Check SMS Format
NID<Space>FORM NO<Space>DD-MM-YYYY and send to 105
National Identity Card number will be sent to you through return SMS. Now know how to check Bangladesh Election Commission voter ID or NID card information.
Voter ID Card Check 2023
To check voter ID card visit services.nidw.gov.bd website and register with NID number, date of birth, address and mobile number. Complete Face Verification with NID Wallet app. After verification, set the password of the account. Finally you can check NID Card from profile option by logging in.
Those who have registered as new voters can also check the new voter ID card in the same way. The detailed process of how to verify your voter ID card by Face Verification is shown in this link, Voter ID Card Download .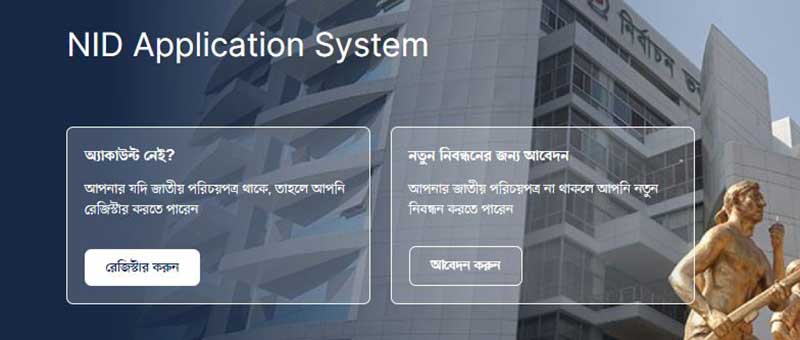 Various organizations such as police, intelligence agencies, banks-insurance or other organizations can use NID Verification software provided by the Election Commission to verify National Identity Card information. To use this software one has to apply and buy package from porichoy.gov.bd site.
Procedure for verification of national identity card with name and address
Visit ldtax.gov.bd to verify National Identity Card with name and address only . Then enter the mobile number, national identity card number and date of birth from the citizen registration option and proceed to the next step. Verify account with OTP sent to mobile number. After that, you can verify the National Identity Card information by logging into the profile.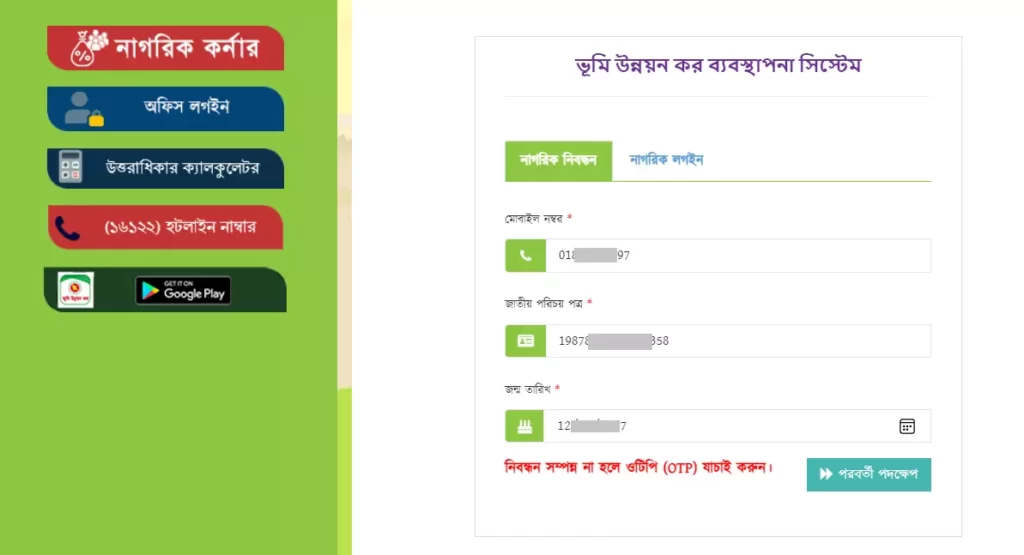 Follow the steps below to verify the National Identity Card with name, parent's name and address only.
Visit ldtax.gov.bd and click on citizen corner.
Enter active mobile number, National ID number and select date of birth.
Verify account with OTP received on mobile.
In this method earlier you can see information including pictures but now you can see only name and address. It has been withheld from the Election Commission for personal security reasons.
More information about Voter ID Card
If you have any problem or query related to voter id card check please comment below. I will try to answer as soon as possible.